Delta Dental Dentist in Livermore, CA
You may be worried if you haven't been to a dentist in a long time. Will you need a lot of dental work? How will you pay for it? The good news is Dr. Todd Kamena at Murrieta Dental Care in Livermore, CA, accepts Delta Dental Insurance to help you with your dental care needs.
Delta Dental is the nation's premier dental insurance company, ready to make dental care easier on your budget. Delta Dental covers a wide range of dental services to give you the smile you deserve.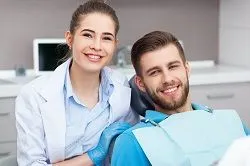 A healthy smile isn't just better for your overall health; a healthy smile looks better too! Regular visits to your dentist for a dental examination and x-rays can help keep you smiling and free of tooth decay. When you visit your dental hygienist for a thorough professional teeth cleaning every six months, you are helping to prevent gum and periodontal disease. Delta Dental Insurance encourages preventive dental care to help avoid dental problems in the future.
If you do experience tooth decay, a dental abscess, or other painful dental condition, then a Delta Dental Dentist can help with that too. Delta covers a wide variety of dental care procedures to repair and renew your smile.
You need to take care of your smile before small dental issues become painful dental problems. To find out more about Delta Dental Insurance, please visit the Delta Dental website by clicking on this link: https://www.deltadental.com/us/en/individual-and-family.html
You owe it to yourself and your smile to discover what dentist Dr. Todd Kamena can do for you. To find out more about Delta Dental Insurance and coverage for routine dental procedures, call Murrieta Dental Care in Livermore, California, at (925) 447-4800 today!